Konica Minolta is proud to announce that we partnered with Upgrade Business Forms Manufactory Ltd. (UBF) to expand the business market of Label Printing by the installation of the 1st AccurioLabel 230 in Hong Kong.
AccurioLabel 230 is a great partner for small to mid-size label converters in Hong Kong by offering affordable entry to high-quality digital printing.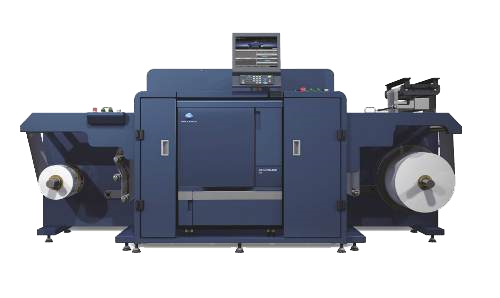 Rethink Label Printing
UBF as the leader of Label and Professional Printing that had over 25 years' experience always moves with the times. To rethink the market needs of Label Printing in Hong Kong, UBF installed AccurioLabel 230 to enhance their competitiveness. AccurioLabel 230 is well-designed to cater for an increasing demand of small to medium print jobs in ever-shorter processing times.
Fulfilling the market needs of customization
Contrary to traditional conventional flexo and offset printing, AccurioLabel 230 helps UBF develop more value-added Label Printing services and fulfill the market needs of customization. 
AccurioLabel 230 can process the jobs like variable data printing or numbering printing easily and efficiently. Moreover, this highly flexible digital printing system is compatible with a wide range of media including not only ordinary and matte paper, but also glossy paper, tack paper and film essential for label production. 
The customers can select the ideal media to match various applications, for examples, food packaging label, souvenirs packaging, POP displays and anything creative without limits.
Printing with high efficiency and quality 
AccurioLabel 230 not only fulfills the demand of customization, but also the high printing efficiency and quality pursued by UBF.
AccurioLabel 230 runs most tack papers and films at speeds of up to 23.4 mpm enabling to complete the tasks that were time-consuming on analog machines quickly and accurately.
It is also designed to deliver stable printing quality. The output is high quality and high precision, with the printing resolution of 1,200 × 1,200 dpi and 256 gradations. The touch panel monitor enables intuitive operation and is easy to use for operators, eliminating the need for extensive user training. 
The AccurioLabel Series Hits 500th Milestone in Total Shipments 
Konica Minolta is also pleased that the AccurioLabel series marked another important milestone: the 500th unit shipped.
"Konica Minolta entered the digital label press market in 2016 and quickly hit the milestone of 500 units sold. We drove the growth of the overall digital label press market by creating a new market of the mid-range digital label press. Last year, we had one of the largest shares of the global market.
This has been achieved by widespread support from customers for the AccurioLabel series as a solution to various issues faced by the label printing industry, including the growing demand for small to medium print jobs with fast delivery.
Many label converters, which used analog printing alone, have entered digital printing for the first time using AccurioLabel. We will continue to help customers expand their businesses as their partner in the industrial printing business." 
Toshitaka Uemura, General Manager, Industrial Print Business Unit, Professional Print Business Headquarters, Konica Minolta, Inc. said.