"Digital Doctor" is one of the most proactive remote diagnostic systems designed by Konica Minolta to perfect customer experience with its powerful bizhub multi-functional product (MFP) series. The system will handle all relevant device alerts, messages and meter readings and requires no effort or attention on your part.
"Digital Doctor" service is applicable to specified bizhub only.
Product specifications are subject to change without prior notice.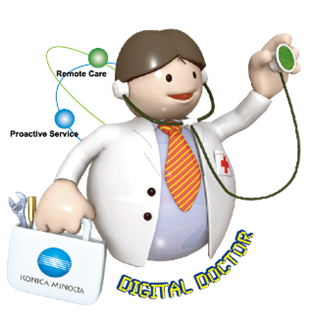 The benefits of "Digital Doctor" can be immediately enjoyed without any additional software. Your Konica Minolta bizhub MFP is already equipped to benefit from this diagnostic system with 100% security*.
Once we detect the status of your consumables, we will deliver the right item, and replace it at the right time*. This first-ever one-stop service ensures on-time delivery of consumables and you do not have to take any actions on order taking.
*The replacement of consumables includes Imaging Unit, Drum Unit, Developing Unit, Transfer Belt Unit and Fusing Unit, but does not apply to Toner, Waste Toner Bottles, Stapler and others.
The automated meter reading function means there is no need for you to manually check meter readings or be bothered with keeping track of expiry dates. We will send you the invoices after we have automatically taken the meter readings. It alleviates your administration burden.
The "Digital Doctor" automatically senses when service attention is required. If it is necessary for an appointment with a technician, we will call you to arrange the best time for site visit so that you will not experience any interruption to your daily workflow.
With our "Digital Doctor" system, it always ensures your MFP will be kept in top functional condition. It assures that we have always ample warning from your MFP. Even before the recognized problem, we are already aware of it. Troubleshooting will be more accurate and efficient.
We'd like to hear from you
We welcome your feedback so we can make continuous improvement to better serve your needs