Konica Minolta has introduced the AccurioPress C7100, digital color presses packed with innovative technologies to create more profitable business opportunities. From intelligent automation and enhanced finishing to flawless quality, advanced capabilities and exceptional durability, customers have the power to grow their businesses through a press that works smarter.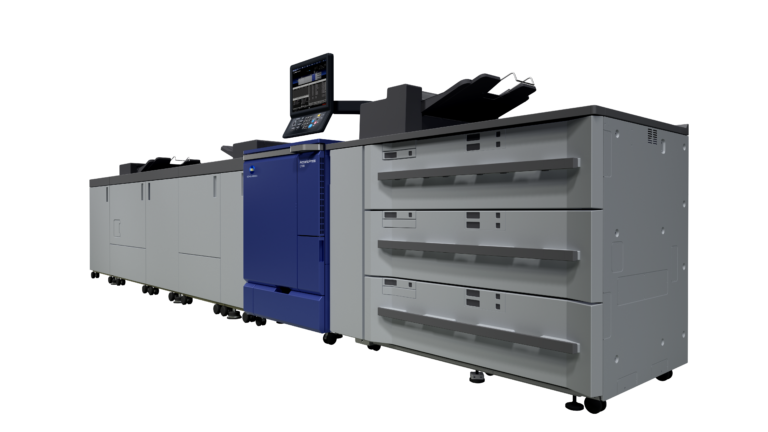 Succeeding the highly successful AccurioPress C6100 Series, the new AccurioPress C7100 runs at 100 pages per minute (ppm). With a focus on optimizing performance, offering new and advanced print products, and growing the entire business, the AccurioPress C7100 series serves more customers and completes more jobs with innovative technologies that power success. 
Flawless Quality 
Our latest low maintenance, energy efficient Simitri V toner reproduces superb color quality on a wider range of media up to 400gsm. Combined with an output resolution of 3600 equivalent x 2400 dpi, you can deliver outstanding results even during the fastest, longest print runs.
Advanced Capabilities 
With auto-duplex banners up to 900mm and the flexibility to handle embossed and textured media, it allows a single operator to run the most complex projects. 
Intelligent Automation 
The Intelligent Media Sensor IM-101 can detect the stock and significantly reduce production time. The IQ-501 Intelligent Quality Care Unit ensures consistent color quality and front-to-back registration on every print in real time. With no recalibrations or inspections mid-run, users benefit from printing image data directly comparable with scanning data from IQ-501 and real time variable data print (VDP) inspection. It can inspect for changes in text and images with real-time color and registration adjustment. 
Enhanced Finishing 
As with the entire AccurioPress portfolio, AccurioPress C7100 deploys a wide range of finishing and other functions in addition to booklet-making, stapling, perfect binding and wire binding. Konica Minolta's TU-510, the world's first inline cutting finisher, is available for the AccurioPress C7100 Series. The TU-510 is a four-edge trimmer and creaser that allows full-bleed finishing support for long sheets, booklets, direct mail and dedicated business card cutting options. 
Exceptional Durability 
The system adopts a more durable lubricated drum, double corona wires with automatic cleaning, an optimized paper transport solution and a double swing registration system for improved paper compatibility and feeding accuracy. 
The AccurioPress C7100 supports a highly responsive print room environment where customers rethink agility. It offers a choice of different controller front ends from EFI and Konica Minolta's own offering to perfectly match customer requirements. 
The AccurioPress C7100 is now available. Learn more about the product features at: https://bit.ly/3ZhdL0G