Konica Minolta has been proudly appointed as the master distributor of Gausium Ecobot Robots in Hong Kong. Our Robot Portfolio was enriched by introducing a series of Gausium A.I. comprehensive commercial Cleaning Robots, including Vacuum 40, Scrubber 50, Scrubber 75 and Sweeper 111, which cover the cleaning requirements of a wide range of facilities with varied sizes and floor surfaces.
By 2021, Gausium's cleaning robots had been deployed in over 40 countries across 6 continents, recognized by thousands of satisfied customers. Gausium is a leading company of providing A.I. integrated autonomous service robots.
"Technology keeps changing at a fast pace in the world, Konica Minolta upholds our faith to provide the cutting-edge innovations for our customer for improving the productivity. We believe that Konica Minolta will become an outstanding solutions consultant of smart robotics under the close co-operation with Gausium." Managing Director of Konica Minolta Hong Kong, Mr. Robert Ip said.
"Gausium believes that the future of the service industry will be ridden on intelligent robotic solutions. We strive to develop innovative technologies, improve product performance and digitalize the process. With close relationship with Konica Minolta, we wish to promote and deploy more intelligent cleaning solutions in Hong Kong." Regional Head of Gaussian Robotics, Mr. Ronald Yip said.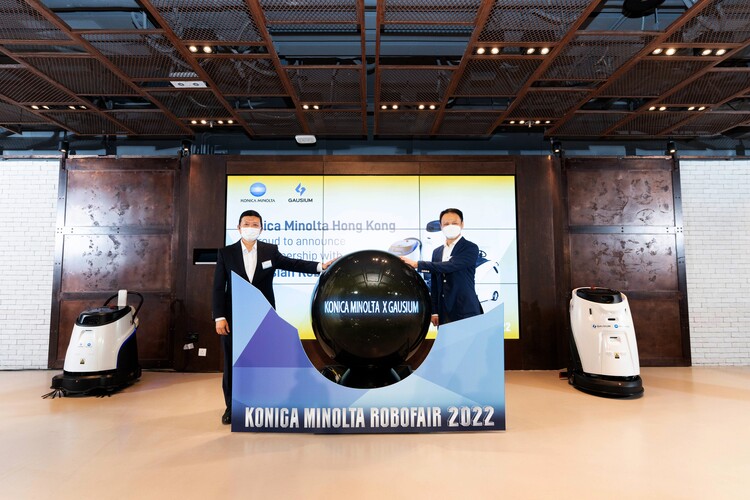 Konica Minolta provides a wide range of smart business solutions including but not limited to Robotic Solutions, Enterprise Solutions, Digital Workplace, Cloud Services, a variety of hardware devices in addition to the IT and Business Process Outsourcing services to cater for the ever-changing and diverse needs of enterprises of all sizes in Hong Kong.
Gaussian Robotics designs and builds class-leading autonomous navigation based on advanced SLAM technology and integrates it into cleaning robots to co-work with people in enhancing the cleaning operations. She has rapidly expanded to a team of over 1000 employees since 2013 with its headquarters in Shanghai and oversea offices in Singapore, Hong Kong and the Netherlands.