Microsoft 2019 Partner of the Year Awards has been held at Las Vegas on 18 July, Konica Minolta Hong Kong was honored as Top Cloud Solution Provider (CSP) Indirect Reseller. This has proven that as a Microsoft Gold Partner, Konica Minolta continuously provides outstanding and custom-made cloud solutions to our clients. We always love to look into our client's business, help them identify their business needs, custom made and implement the most suitable cloud solution. We aim to help clients save time, money, grow their business and lead their industries.
Just as Gavriella Schuster, Microsoft's Corporate Vice President of One Commercial Partner, said "While it may be the technology that brings us together, it is the partnership that keeps us together." Konica Minolta is grateful for our clients' support and trust, we are looking forward to serving more clients and working more closely to rethink your business and enjoy the fruit of digital transformation!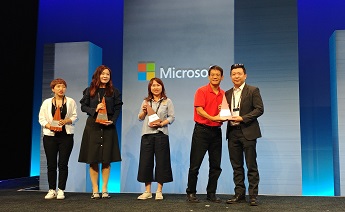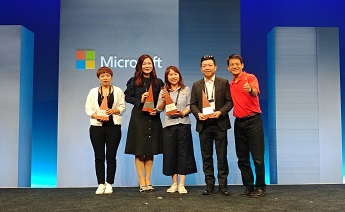 Robert Ip (right), Managing Director of Konica Minolta Hong Kong, attended Microsoft Inspire 2019 in Las Vegas and accept the award.
Robert Ip (second from right) had a group photo with other winners on stage